The movement of resistance against the Trump/Pence Regime continues to grow! Saturday's Tax Day March was loud, defiant and energetic. More than 400 people gathered at McCoy Pavilion to get ready for the march. Small kids mingled with 80+ year veterans in a festive atmosphere as they read signs, met old friends and made new ones. Most signs focused on Trump's taxes, but others were there as well: Planned Parenthood, RefuseFascism, anti-war....
Marchers chanted, clapped, and drummed. There was a huge 10-foot chicken atop a golf cart. Pruitt and Bannon zombies, a "money monster" and more.
When the march reached the Federal Building marchers eagerly grabbed up bottles of ice cold water and popsicles, signed up to get information about the next anti-Trump actions, and settled down under the shade of the big monkeypod trees to listen to a rally and visit with friends.
A
April is a month of Action! There will be a big Earth Day Festival at UH on Wednesday (19th). Next Saturday (the 22nd) is the March for Science. On Monday, April 24th, VP Mike Pence is stopping over in Honolulu. The People's Climate March will be happening on April 29th, and people will hit the streets again on May 1st.
Tax Day protests happened in more than 100 cities across the U.S.
World Can't Wait-Hawai`i/Refuse Fascism brought a stack of the big NO signs and people quickly grabbed them up and carried them in the march. These signs are popular in marches across the U.S. and are easily downloadable at
www.refusefascism.org
Just download a copy, go to FedEx and enlarge it, and paste it to a cardboard backing.
Then have it at the ready to bring to the next action!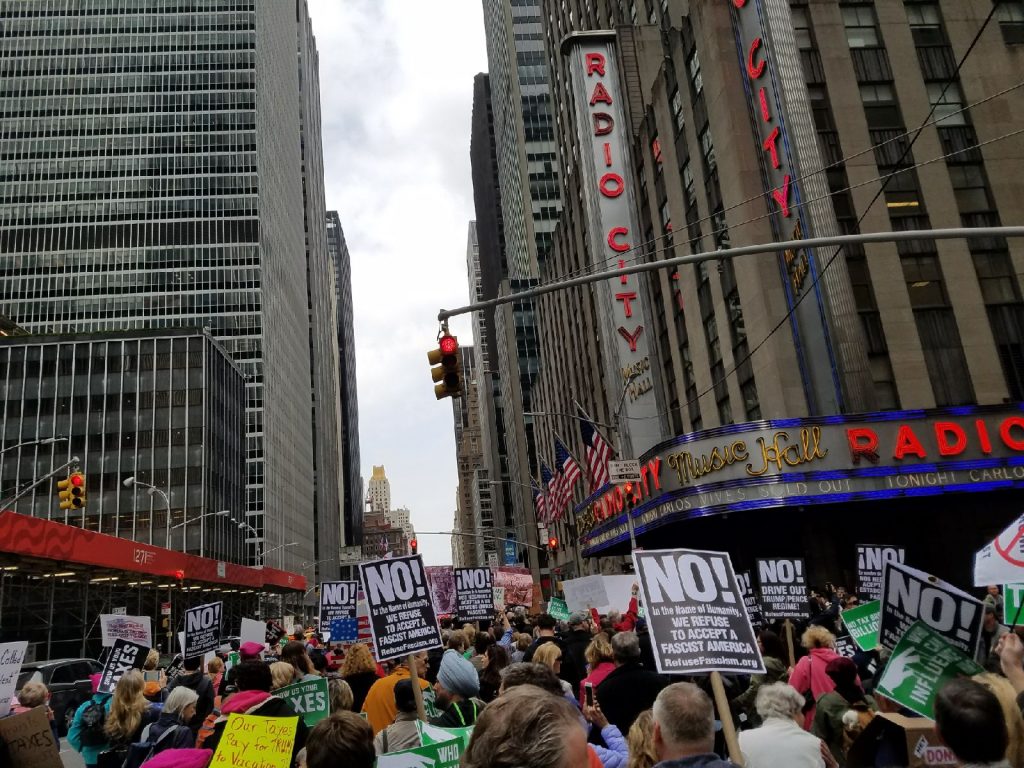 Tax March in NYC